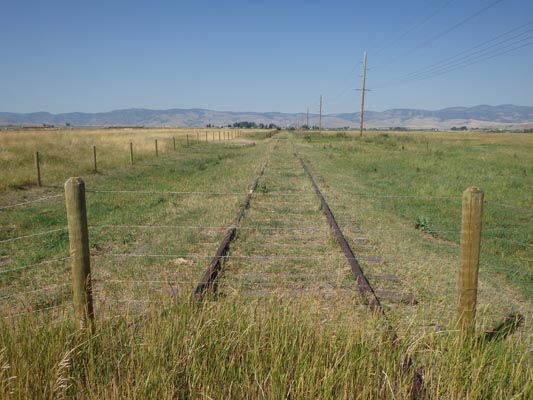 Montana Rail Trails
Loss and Opportunity
By Thomas J. Elpel, author of Participating in Nature
We stopped at the gate, not sure what to do. There were a dozen "No Trespassing" and "Private Property" signs plastered all over the metal bars. We were forty miles into a 500-mile walk across Montana, and there was nowhere else to go. It was mid-April, and the mountains were still covered with snow. The main line of the Burlington Northern Railroad (now Montana Rail Link) brought us to this point, at the mouth of Sixteen Mile Creek, and our maps showed the heading east. The railroad went out of business eight years earlier, in 1980, and the rails and ties had been stripped from the old bed. The locked gate blocked our path. Our choices were limited--turn back or go forward. So began my introduction to Montana's amazing system of rail trails, most of which are unfortunately closed to public use.

Sixteen Mile Creek was a scenic wonderland, and the gentle grade of the railroad bed enabled easy walking through the otherwise narrow canyon. Wooden trestles bridged over the turbulent creek, and tunnels bore through the rugged hills, allowing my girlfriend and I easy passage through the Big Belt Mountains. Fortunately, the land manager waived us onward rather than pressing charges for trespassing. We saw twenty-eight elk and 250 deer in one day. The next ranch was also posted, but they invited us in for hamburgers. I guess we looked pretty harmless; two young people, partly dressed in buckskins, on a mission to walk across Montana. We walked 150 miles on the "Milwaukee Road" through Martinsdale, Two Dot, and Harlowton, before cutting cross-country north to the Missouri River for the remainder of our journey.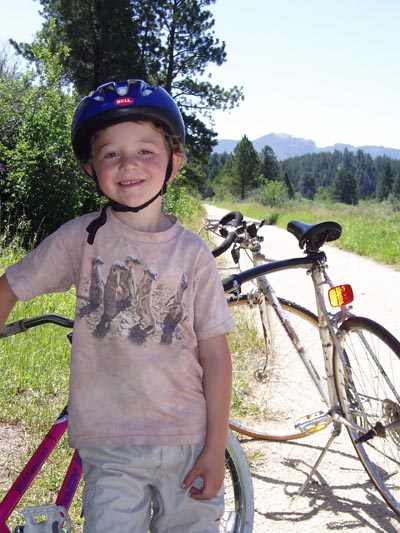 The Mickelson Trail is a great family friendly ride through the Black Hills of South Dakota.
Years later, I drove the back-up vehicle for my sister and her friends when they bicycled the 109-mile George S. Mickelson Trail in the Black Hills of South Dakota. In 2007, I brought my family back to the trail, using a Trail Gator to connect my six-year-old's bicycle to my own. My eldest daughter drove backup, bringing our camping gear from site to site. We often stayed at campsites for two nights, using days off to tour by car, visiting nearly every tourist town and park in and around the Black Hills.

Bicycling the Mickelson Trail was a fantastic family experience, and I wanted to do something similar in Montana. But there didn't seem to be any significant rail trails in Montana, so we took our tourist dollars to northern Idaho in 2008, cycling the 72-mile Trail of the Coeur d'Alenes from Mullan to Heyburn State Park. I drove backup, typically bicycling half, or sometimes the full distance each day, then cycling back to get the vehicle. Again, we had an amazing family journey, and I returned home to Montana wanting to bicycle a homegrown rail trail.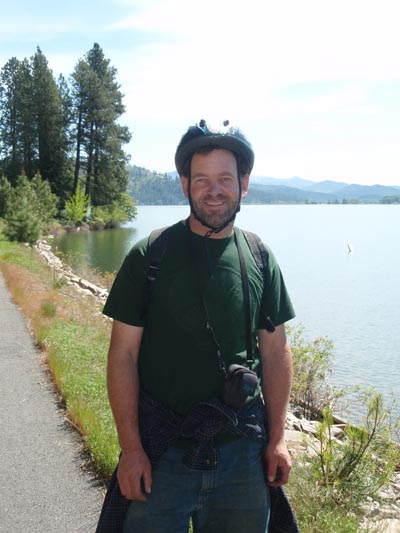 The author on the Trail of the Coeur d'Alenes in Idaho.
Unfortunately, Montana is way behind other states in developing rail trails. Searching online for rail trails in Montana isn't very encouraging, although the options have improved in the last ten years. There are numerous mountain bike trails, but not much for family-friendly bicycle trails. Most rail trails or similar bicycle trails are in or around Montana cities. The River's Edge Trail in Great Falls is an amazing 38-mile network of paved and gravel bike paths around town, great if you are visiting the city, but not exactly a travel destination in itself. Look at an online list of Montana bike trails, and most are under ten miles long. In fact, most rail trails are under two miles long. However, there are still opportunities to create long-distance trails to provide healthy recreational benefits for residents as well as to draw tourist dollars to local economies.
Stopping to view bighorn sheep while bicycling Rock Creek Road.
Unable to find a suitable rail trail long enough for my needs, I spent two years intermittently staring at the Montana Gazetteer before settling on Rock Creek Road near Philipsburg as a passable alternative. The boys and I enjoyed a lovely three-day, fifty-mile bicycle ride following the gentle grade downstream to Interstate 90. The upper portion passed by scenic ranchland, which soon transitioned into National Forest with convenient campsites along the way. There wasn't much traffic on the gravel road, and we encountered a herd of bighorn sheep beside the road. Although not a rail trail, or even designated as a bicycle trail, it is possibly the best family-friendly scenic bicycle route in the state.

Fortunately, there is an effort to improve Montana's bike trail infrastructure. The 51-mile Bitterroot Trail is a new, paved pathway along US Highway 93 from Missoula to Hamilton, not necessarily a destination in itself, but a much safer option for local residents than cycling on the shoulder of the very busy highway.

The Silver Bow Creek Greenway, presently under development, will total 26 miles along Silver Bow Creek from Butte west through Rocker to Warm Springs Ponds. It will be a nice scenic trail and potential destination for day-trippers.

As far as tourist destinations go, the Route of the Hiawatha remains Montana's most famous rail trail, although almost the entire trail is in Idaho. The trail starts in Montana at the entrance of a 1.66-mile pitch-black tunnel west through the Bitterroot Mountains into Idaho. This 15-mile trail includes ten tunnels and seven towering trestles along the route. Cyclists can bicycle downhill and take a shuttle bus back to the beginning. The Montana side of the trail has recently been extended eastward with the 31-mile Route of the Olympian following the old Milwaukee Road.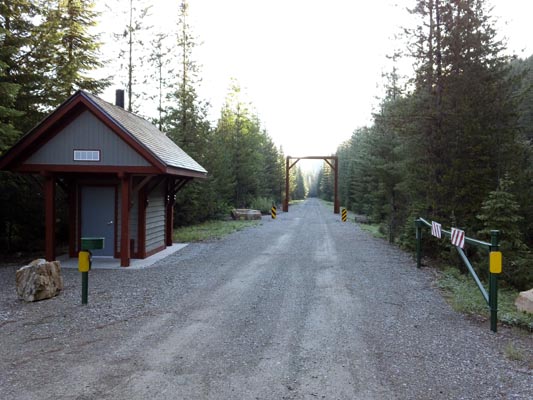 The Route of the Olympian extends the Route of the Hiawatha east from Idaho into Montana.
The Milwaukee Road would be an amazing rail trail if a person could cycle the entire route from Chicago to the Pacific Coast, or even just the Montana portion of it, but the railroad never owned the land beneath its tracks. Instead, the company held an easement to lay tracks over public and private lands. When the railroad went bankrupt, the easement ceased to exist, and the railroad bed belonged to whomever owned the land under it. In some places the railroad bed has been completely removed, with houses built in the middle of it, or the earth leveled and plowed back to agriculture. Most of it remains, visible from nearby roads, but chopped with fences and no legal access.

Aside from the Route of the Olympian, several other small sections of the Milwaukee Road have been turned into trails where the railroad crossed public lands, such as Thompson Park in the Highland Mountains, which also intersects the Continental Divide National Scenic Trail. More segments could be opened to rail trail use, and there are many private sections that should ideally be pursued for purchase from the landowners.

Fortunately, the Milwaukee Road isn't the only abandoned railroad bed. If you pay attention when traveling, you will start to see old railroad beds everywhere. For example, there is an railroad bed following U.S. Highway 89 from Livingston to Gardiner, although here too, the easement expired. Nevertheless, some sections of the railroad bed may sit within the right-of-way for the highway. There is an ongoing effort to create a bike trail from Livingston to Gardiner, which is still largely in the conceptual phase. This 55-mile trail through the scenic Paradise Valley could easily become one of Montana's top bicycling destinations. There are already campgrounds available along the route, and numerous tourist attractions, including Chico Hot Springs, as worthwhile side stops.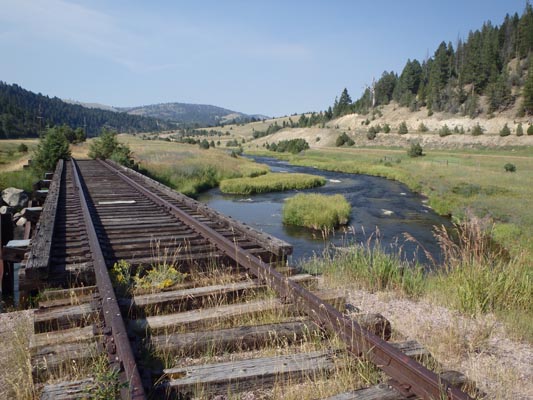 The inactive Philipsburg-Drummond railroad line could be leased for a public rail trail.
Another prime route for consideration is Montana Rail Link's inactive line between Drummond and Philipsburg, approximately 27 miles long. Like the Chicago Milwaukee, Montana Rail Link doesn't own the land, but neither have they let go of the easement. The tracks are mostly still in place, although road crossings have buried the rails under gravel or pavement, and in some places, tall trees grow up through the tracks. When I inquired about rail trail potential, a real estate specialist for Montana Rail Link said the company would consider leasing a portion of the right of way for use as a public walking and bicycling trail, if there were a comprehensive trail plan in place. Philipsburg is already a great tourist destination, and this rail trail project would give visitors a reason to stay and enjoy the area longer. Cyclists could potentially cycle from Drummond to Philipsburg, then cycle west to connect with Rock Creek Road for a great 85-mile scenic bike ride.

Converting old railroad beds to public trails can be a daunting challenge, requiring considerable time and money to bring a project to fruition. For the Drummond-Philipsburg line, for example, the process would require building a widespread coalition of support to get the ball rolling. It would take time to develop a comprehensive plan and define issues of liability, jurisdiction, and long-term management. Actual trail development would require extensive grant writing to secure funds to remove the tracks, replace missing or failing trestles, reconstruct fences and gates, and install signs. Paving is optional, and greatly more expensive.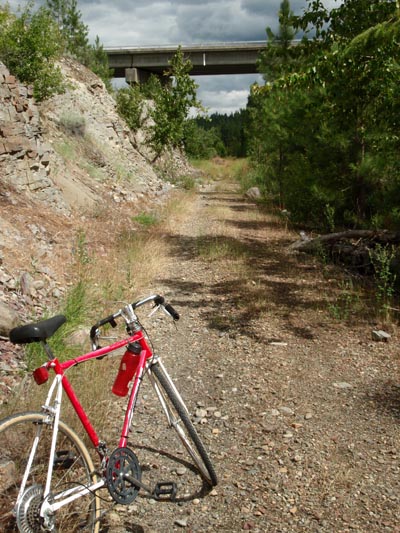 The eight-mile Kootenai Trail runs from Eureka, Montana to Lake Koocanusa at Rexford. Rail trails do not have to be paved to provide a pleasant ride.
Unfortunately, Montana doesn't budget any state funding for nonmotorized trail projects, but instead relies on funds from the Federal Transportation Bill for most trail projects. Other states have been more successful in passing pro-trail legislation or have developed nonprofit foundations to help fund trail development and maintenance needs. Montanans need to band together to call for more action on rail trail development in our state.

Fortunately, there are some potential low-budget trail opportunities that should be explored to establish trails and nurture statewide advocacy. For example, there is potential for a great scenic rail trail following Interstate 15 most of the distance from Butte through Elk Park to Basin and Boulder. Old railroad beds parallel the highway for much of the route, while dirt or paved roads serve as connecting links where the railroad bed is broken. This section of interstate is not too busy or loud, and there are lovely campsites along the way, especially along the Boulder River. I've thought about making signs and marking the route myself, but have enough competing projects that it hasn't happened yet. Nevertheless, it is a rail trail project that could potentially be completed for the cost of a few signs.

If we look around we can potentially find many other scenic, family-friendly bike trails, like Rock Creek, which could be cataloged and signed without expensive development costs. In essence we can pick the proverbial low hanging fruit to establish a starter network of scenic Montana bike trails and build advocacy for more daunting projects such as the Drummond to Philipsburg line, which would require a significant investment of time and money to bring to fruition.

There are presently several localized rail trail advocacy groups around the state. In addition, Bike Walk Montana is a statewide nonprofit advocating for rail trails and other safe hiking and biking alternatives to roads and highways. I started a Facebook page for the Montana Rails to Trails Conservancy, in the hopes of drawing interested parties together towards a common mission. Be sure to "like" the page and join the discussion.



Thomas J. Elpel is the author of numerous books and videos about sustainable living and reconnecting with nature. He is the founder and director of Outdoor Wilderness Living School, LLC (OWLS), dedicated to reconnecting children and nature. For adults, he founded Green University® LLC to "connect the dots from wilderness survival to sustainable living skills." Elpel also founded HOPS Press, LLC and the Jefferson River Canoe Trail.
---
Hi Tom,

My wife and I have done the Mickelson, Bitterroot 300 and some other RailTrails. We've biked in a number of European countries and many of the Central and South American countries as well as Mexico. We are both great supporters of more bike trails, more cross-country trails. This summer I completed the Tour Divide (Great Divide Mountain Bike Route). Biking is near and dear to my heart as well as hiking and climbing (less so these days what with trashed knees). I have done several long multiday bike-B.O.B. trips around SW Montana, WY and ID as well as a trip back to Bozeman from the west coast. The only reason that I mention this (not to brag) is to show my interest and commitment to biking. Like your article points out - WOW how wonderful would it be to have a bike-walk trail thru Paradise Valley from Livingston to Yellowstone and also thru 16-Mile. There are so many old railroad grade roads (shared use) in northern Idaho and Montana as well as many other places. We need more RailTrails. I really appreciate the articles you have written. They are really really interesting and right on-point!!

Bundy P.
Bozeman, Montana
---
Hi there!

I recently read Montana Rail Trails: Loss and Opportunity in the Philipsburg Mail and was instantly excited about such an amazing opportunity. I've lived in Philipsburg for roughly 4.5 years and even before I moved here, I was eyeballing that line as a bike/hike trail.
I am a member of the relatively new Flint Creek Trail Association and my initial participation in the group was primarily because of my interest in pursuing the trail from Drummond to Philipsburg, a project that I really want to get involved especially when I retire from my job in about 3 years. I love to mtn bike and usually ride the Hiawatha trail every year as well as our attempt to ride the Route of the Olympia to the start of the Hiawatha and back. Having made it to Saltese and back on a very hot summer day!
You were able to find out more from Montana Rail Link about that line by probably just a quick phone call than I have in the 4 years I've been here, although I did not put a lot of effort into the task while I focus on getting to a position to be able to retire.
Whatever it takes to develop the comprehensive trail plan and to get this hiking/biking trail in place is what I want to put my effort into. I am hoping that you would be willing to share your knowledge, advice and guidance to assist?
Thanks!

Brett H.
Philipsburg, Montana